NEW: for the first time in the pandemic, a Covid infection now carries less mortality risk than a flu infection in England, the result of widespread immunity and the emergence of a less virulent variant in Omicron.
Our story:
https://www.ft.com/content/e26c93a0-90e7-4dec-a796-3e25e94bc59b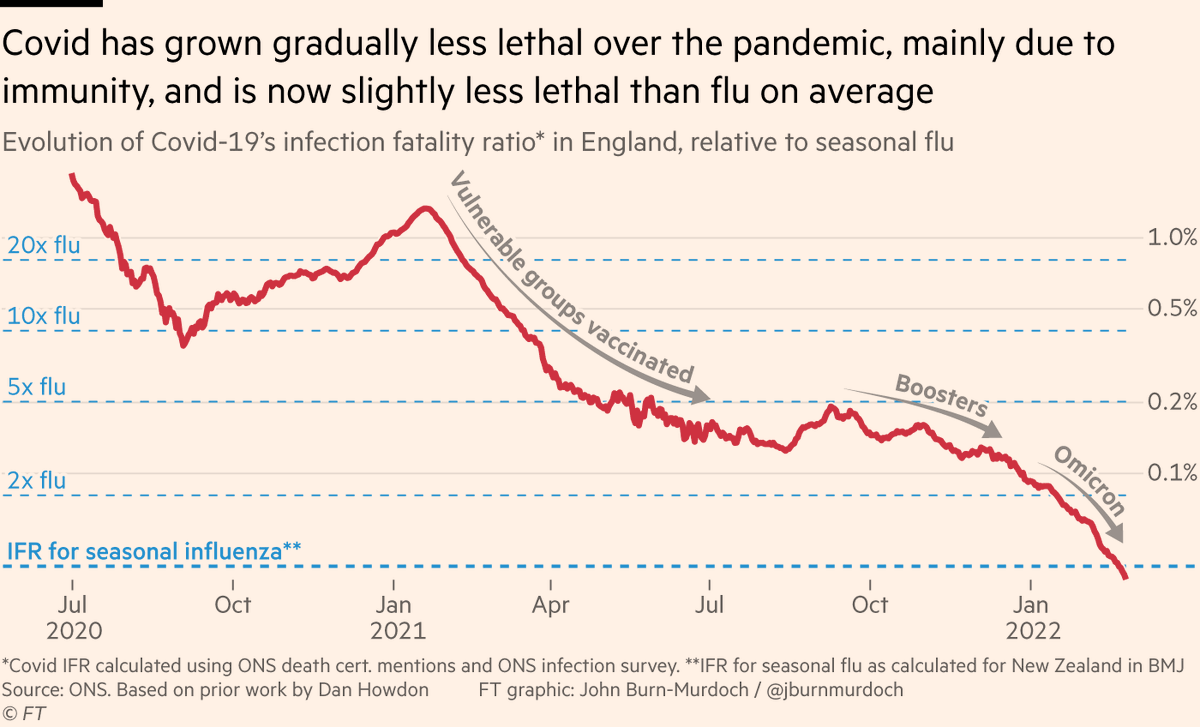 In England, a Covid infection is around 40x less likely to result in death now than it was in January 2021 at the height of the Alpha wave before vaccines.
Mass vaccination reduced the infection fatality ratio (IFR) by 11x, boosters did some more, then Omicron cut it another 4x.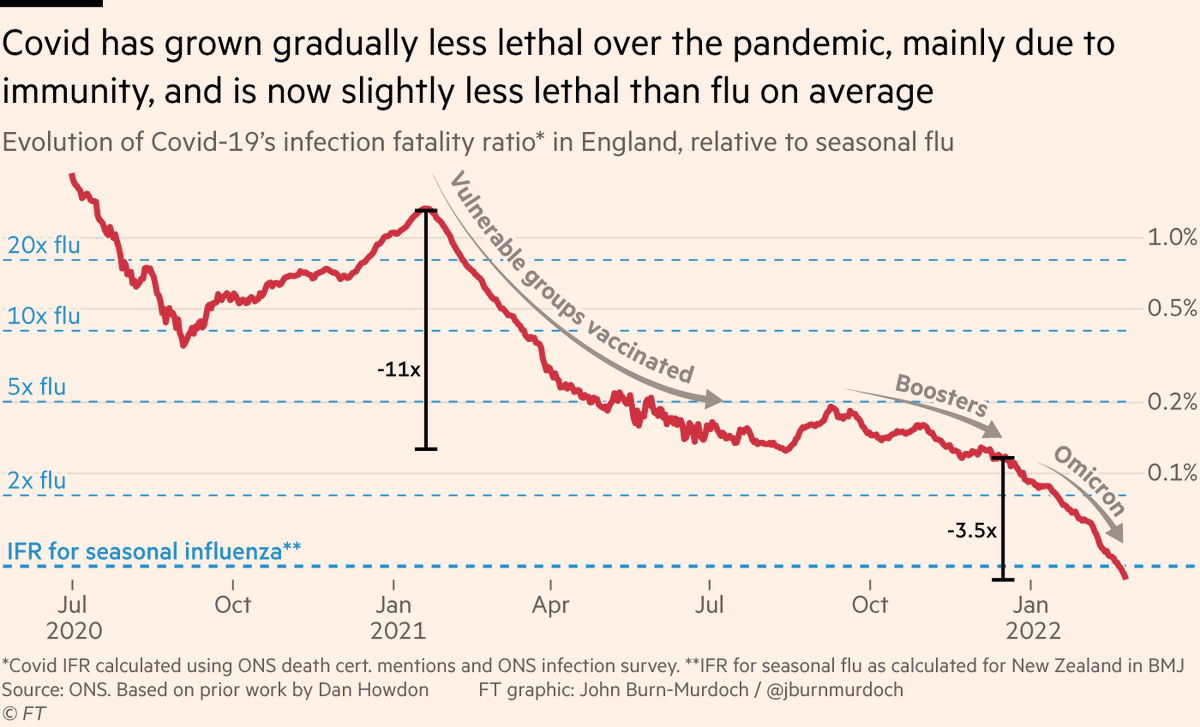 To be clear, infection-acquired immunity has also played an important role in building immunity, but by overlaying cumulative vaccination and infection rates onto IFR, we can see that vaccination was by far the biggest driver of the reduction in lethality.
Science: it's good!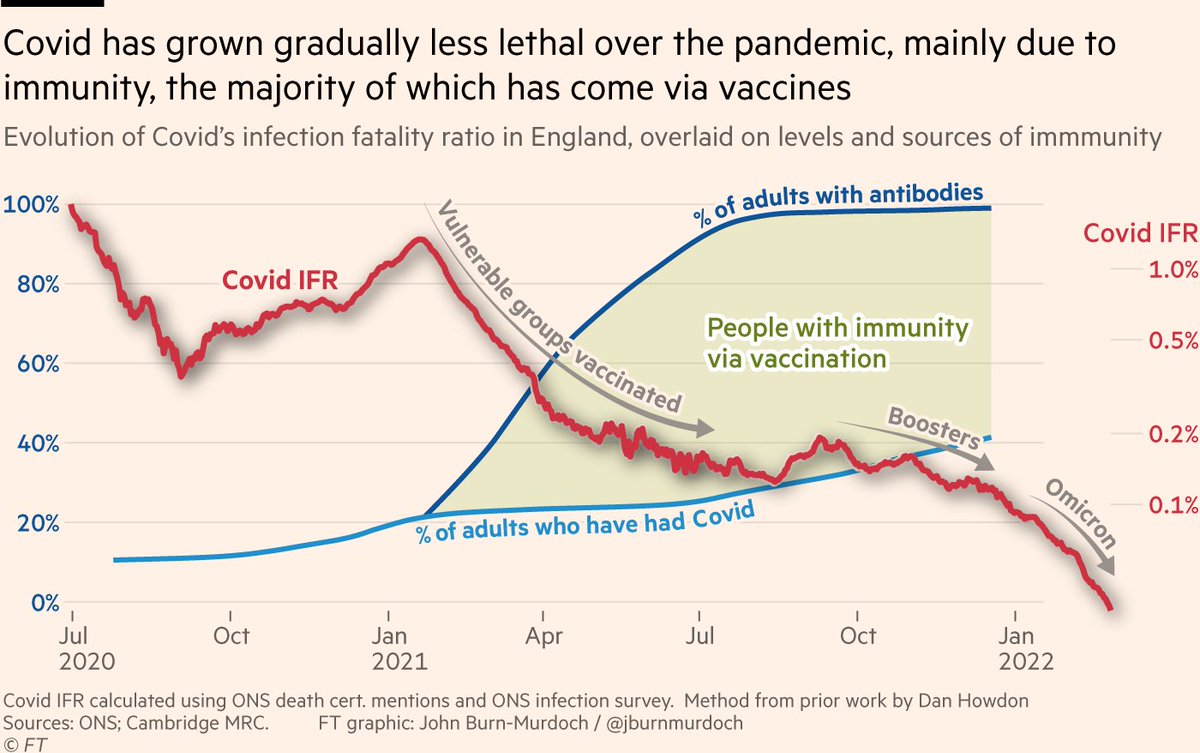 Most significantly, we can now show for the first time that not only is a Covid infection less lethal than flu at the population level, it is slightly lower *even for the elderly* (and significantly less lethal for young adults).
But of course, if we want to know the total toll Covid is having on mortality, IFR is only half of the equation.
A virus can be less lethal on a *per-infection* basis but still cause more deaths overall if it infects more people.
So in our story we explore exactly this point.
We looked at total deaths caused by major respiratory diseases — flu, pneumonia & Covid — over the last 8 years.
Last winter, Covid increased mortality risk enormously. 7x more deaths than in a typical flu season, far more than even a bad flu season.
But what about one year on?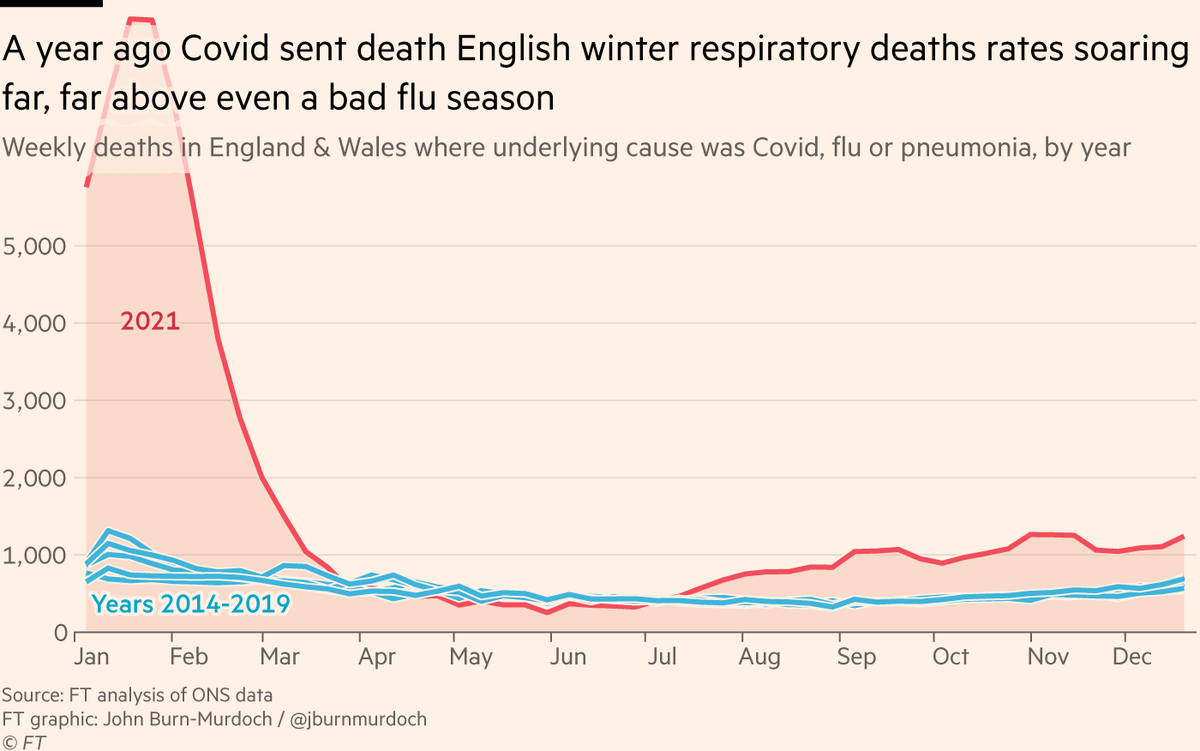 In Jan/Feb 2022, Covid is still increasing the winter respiratory death toll by around 50% compared to a typical year.
As we know, vaccines and Omicron have made Covid far less lethal on a per-infection basis, but sheer volume of infections means *risk of death remains elevated*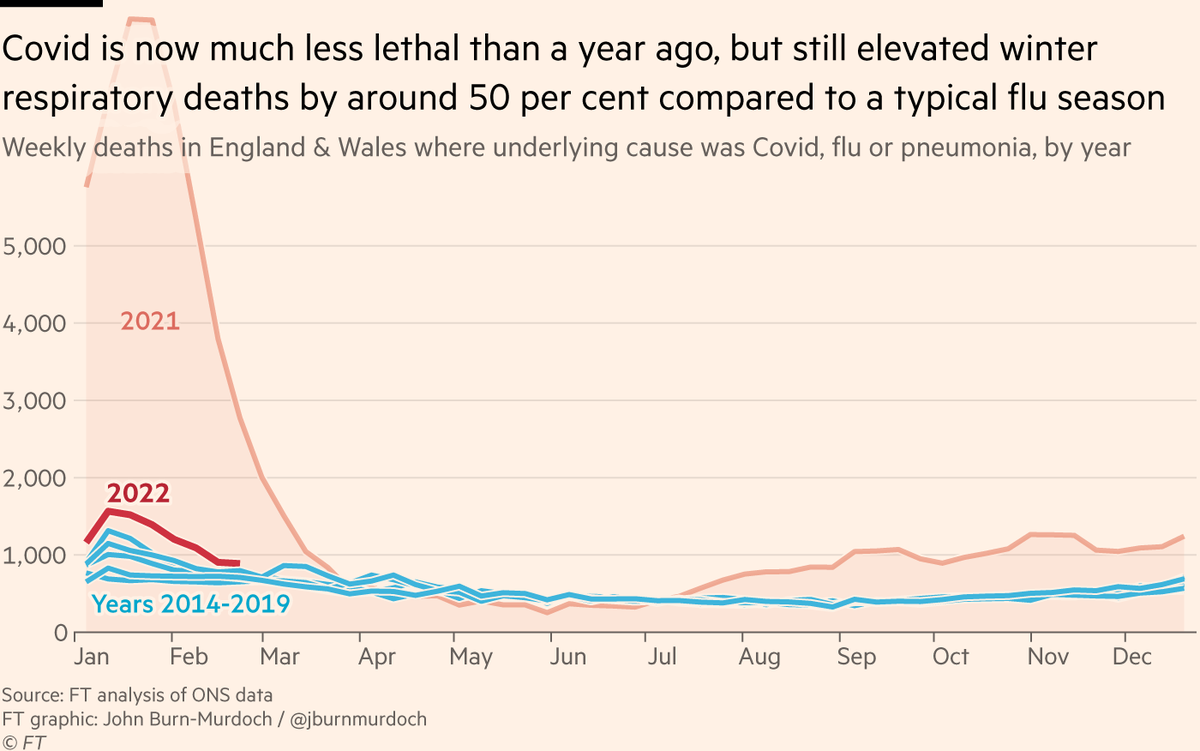 And there are more caveats to the "Covid is now no worse than flu" line:
First, we know Covid is not only a threat during winter. If that red line bumps upwards again in the coming months (more on this in a moment…), that would further increase mortality risk relative to flu.
And second, I think a lot of people still fail to appreciate quite how much work reduced social mixing has continued to do…
Total mortality from major respiratory diseases has actually been *lower* this winter than a typical flu season for young adults and children.
That's because of less flu/pneumonia than if we were all mixing at pre-pandemic levels.
Now, back to Covid's threat extending beyond winter:
Whereas flu is typically waning by March, the number of Covid-positive patients in English hospitals has been rising again in the last couple of weeks.
So do we need to worry again?

Well, if we dig deeper into today's data, we see that in almost all regions — especially those with the biggest rises — more of the increase is coming from people who are not being treated primarily for Covid, i.e those who have mild or no symptoms, and do not have severe Covid.

As always, this does not mean they "don't count", but it does mean that we should interpret this not as a big new wave of disease, but as what happens when we have a highly transmissible virus circulating in a population that is gradually increasing its social mixing.
Pandemic precautions such as avoiding public transport, working remotely, staying away from big social gatherings and mass events, are all now at their lowest point since March 2020, and still falling.

The result is we now have more close contacts than at any time in the last two years, and we're also taking fewer precautions with those contacts.
So we shouldn't be surprised that the virus is still getting around!
But good news is, as we've shown, it's less lethal than ever.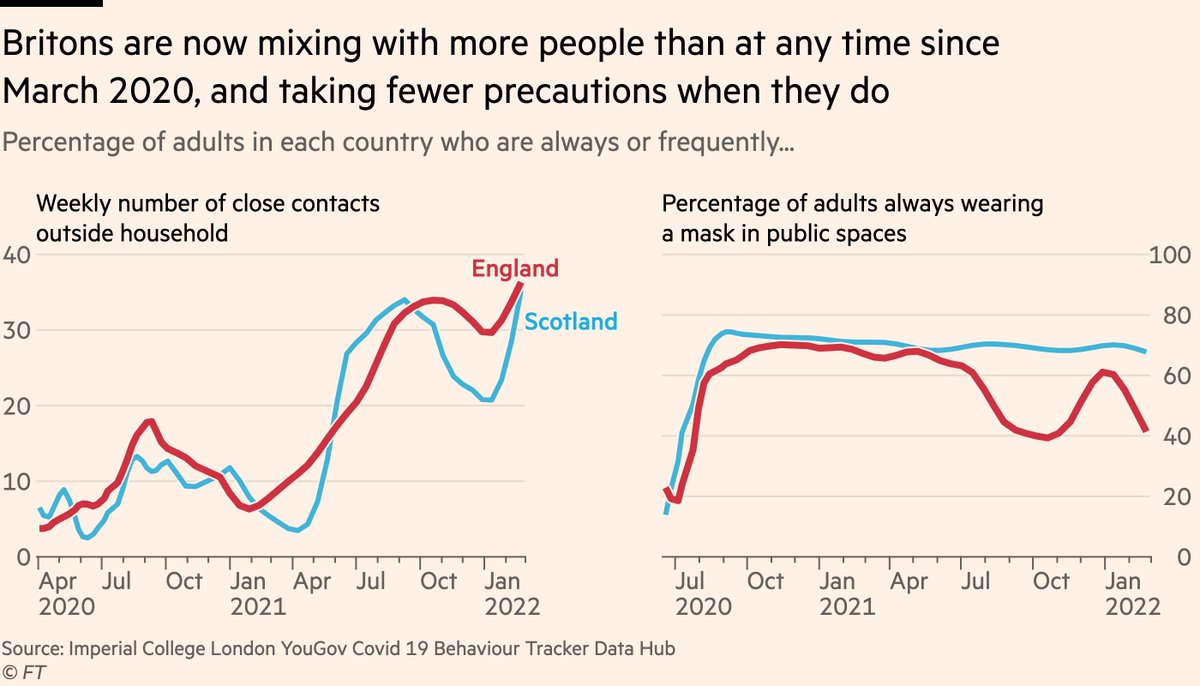 So to summarise Covid in England in March 2022:
• 40x less lethal than Jan 2021, now less lethal than flu
• But spreads very efficiently, and we're also doing more mixing
• So Covid still adding to overall mortality risk, but it's now only adding marginally rather than 7-fold
Here's our story again, from me and @mroliverbarnes, featuring comment from @drraghibali @chrischirp @p_openshaw and others
https://www.ft.com/content/e26c93a0-90e7-4dec-a796-3e25e94bc59b
And a special thanks to @ONS for making such incredibly detailed data available!
Now, back to Ukraine-watching.
Originally tweeted by John Burn-Murdoch (@jburnmurdoch) on March 10, 2022.